Today we visited the Moore Memorial Church, otherwise known as Mu-en Church. It is located in Shanghai on Xizang Lu, in the middle of department stores and across from People's Square.
Frommer's states:This church was established by American missionaries in 1887 and expanded in 1931 to seat more than 1,000 worshippers. It has built up a local membership that numbers in the thousands since reopening in 1979 after its closure during the Cultural Revolution (1966-76).
Originally the Methodist church of Shanghai, the nondenominational church has a Chinese woman serving as its pastor. Two bishops were consecrated here in 1988, the first in China in 3 decades; the same year, American evangelist Billy Graham preached here.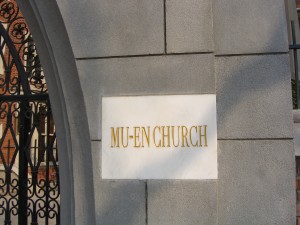 We were unable to visit the inside of the church, as there is renovation taking place. A sign we saw stated that they had Christmas services a few weeks ago, and the structure generally looks to be in good shape.
The above sign states Shanghai Three-self Patriotic Movement Committee.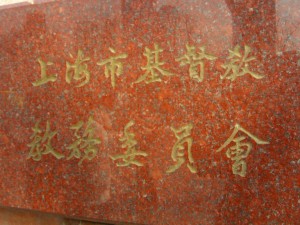 This sign states Shanghai Christianity Affairs Committee, not sure if this is the same with China Christian Council.
The characters above the gate says "Truth gives you freedom."
As you have probably concluded so far, older Chinese churches have simple styles and decor. So far, we haven't seen any church that has comparable richness and beauty of the churches you would see in Europe or North America.
In the early days of Christianity in China, utility might be more important. What mattered is that these houses of God were erected. Plus, one can find beauty in simplicity.