Beijing Shouwang Church is the first so-called underground church we visited. As we said before, it is difficult to know where to find these underground churches. A search online led us to Shouwang Church because it has been the focus of several news reports lately.
Claimed as the largest underground church in Beijing, Shouwang Church was established at the Beijing home of a newly-wed intellectual couple in 1993. As the gathering grew larger, a place of worship became a primary challenge for the church. It rented several spaces including an underground basement over the years to hold its weekly services. But in 2009, government intervention (or rather, embarrassment) led to the early cancellation of Shouwang's rental contract with an office building. Thus, the congregation became homeless. In November 2009, the congregation had to hold Sunday services outside a park in Western Beijing, twice.
See video below:
News reports of these services put the Chinese government in an embarrassing position. It backed down and offered space in a government building to Shouwang. We are not sure if the place we saw is this government-sponsored venue, but it is a government building without a question.
The entrance is hard to find, but look for the "story club" sign.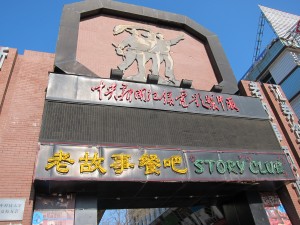 Once you go inside, it is confusing as well as there is no signs directing you to the "church." We walked back and forth several times and finally gathered enough courage to pass this daunting statue to enter the building to the left.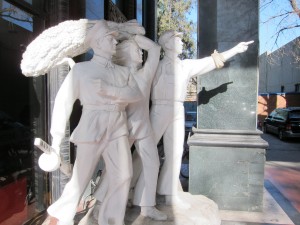 The hall of the CCTV building.
The place is on the first floor, next to the restaurant/bar below.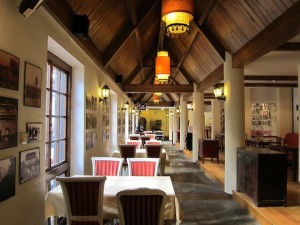 The restaurant/bar has a history theme with old pictures like this one:
This one: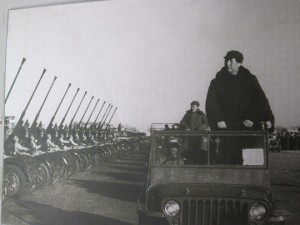 Or of a more recent and recognizable sort:
The services is conducted in the inner section of this restaurant. There are about 300 people and it seems all seats are taken. The format and organization of the service are similar to the other official churches we visited before. It felt just like any other church if you ignore the restaurant setting of the place. Then of course, we weren't there when the congregation prayed in the snow or were forced to leave their rented home.
As no cameras are allowed, we didn't take any pictures. But we managed to film a couple of clips of the services.
Beijing Shouwang Church is in the process of being recognized and sanctioned by the government. If that happens, it will provide a solution and future to China's massive underground church population. But it will be a very difficult task as the gap between the underground churches and the government is enormous.